Sell in 1 Day
Sell With Ease
Sell with the help of our auto experts & receive payment within few hours

Car Valuation
Find out your car's value in just a click
Share Car Details
Share basic car details to help us evaluate your car

Why Choose Us
Best Price
With our industry-first pricing guide, discover the real worth of each vehicle. We find you the best deals, so you don't have to.
Sell in One Day
Our efficient online auction platform allows our massive dealer network to bid for your vehicle and get best deal in 1 hour.
Zero Hassles
Receive payment within a few hours of accepting the offer. Our team will pick up the keys and handle the RC transfer for free.
Detailed Inspection Report
Our Inspection Professionals will provide a detailed inspection report and a quality score of your vehicle.
10,000+ Happy Sellers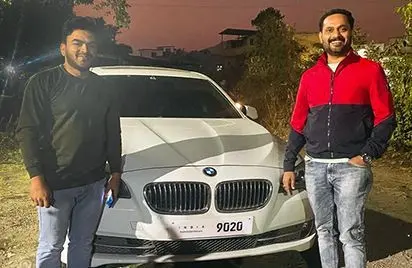 car&bike gave me the best deal for my BMW 520D. Payment transfer was instant as well & Devdatta R Niwal assisted me throughout the deal! Really good service by car&bike.
Pune
Wed Mar 22 2023
The sale proceedings of my Celerio car were super smooth & team was also very co-operative. They answered my queries within no time. Keep it up! I wish the team a bright & prosperous future.
Pune
Sat Mar 18 2023
It has been a pleasure to do business with Mahindra First Choice while I sold my Honda City GF5615! Appreciate the politeness & steering the transfer seamlessly, coordinating everything so well till the deal is complete! Not to mention, your offered value was one of the highest in the market. The "Mahindra Culture" was evident in the warmth of Kiran & Kailas. I would personally recommend MFC for car resale, Kudos 👏 to you all!
Pune
Tue Mar 14 2023
Received the said amount for my car! The transfer was very smooth. My compliments to Ajay, Sagar & Mohan for an excellent experience. Thank you team car&bike, keep up the good work!
Gurgaon
Sat Mar 11 2023
Transfer & documentation process was very smooth! My compliments to you, Ajay, Sagar & Mohan for an excellent experience. Thank you team car&bike!
Pune
Mon Mar 06 2023
Check Your Car Value
Precise price guaranteed, every time!
Indian Blue Book or IBB is the industry-first pricing guide for vehicle valuation in India. With exclusive access to a large number of car transactions that take place every day through different channels, IBB derives scientific & insight inferences that lead to vehicle price discovery.